SHAFT'S REVENGE by DAVID F WALKER (Dynamite Entertainment, 2016, 288pp) ∗∗∗∗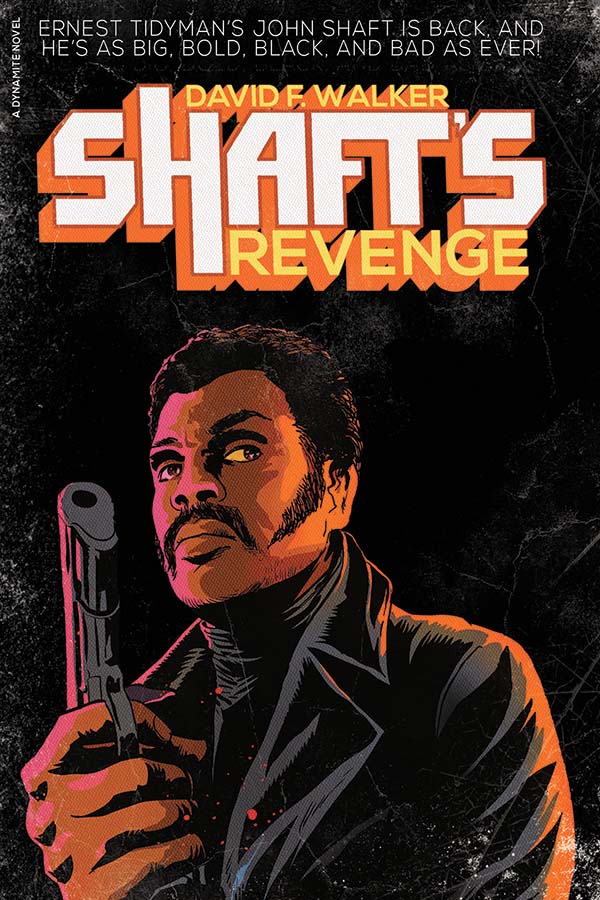 Blurb: Like an unstoppable force of nature, private detective John Shaft is back with a vengeance. Ernest Tidyman's iconic detective returns in the first original Shaft novel in more than forty years, and he's as bad as ever. When the Godfather of crime in Harlem reaches out to Shaft for a favor, the hardboiled detective finds himself caught in a web of violence and murder. No one is safe as the bullets start to fly and the bodies start to drop, leaving Shaft with only two options: kill or be killed. From the writer of the award-winning graphic novel Shaft: A Complicated Man, comes the critically acclaimed return of the black private dick that's a sex machine with all the chicks. It's a two-fisted tale of revenge as Shaft cuts a bloody path through city, settling old scores and faces the demons of his past.
Unbeknownst to each other David Walker and I both set about the goal of bringing John Shaft back into public consciousness as we felt the character was as relevant today as in his heyday and there were more stories to tell. Whilst I took the route of researching and writing a history of Shaft both in print and on screen in order to test interest and establish my credentials (The World of Shaft being published by McFarland at the tail end of last year for which David kindly wrote the Foreword), David took the more direct route of obtaining the literary rights from Shaft creator and novelist Ernest Tidyman's estate. A resultant deal was made with Dynamite Entertainment and Shaft was reborn in comic book form in December 2014. As part of the deal Dynamite also committed to re-publish the original Tidyman novels (yet to appear) and begin a new series of prose novels with Shaft's Revenge being the first.
Shaft's Revenge was originally serialised as a Smart Phone download as part of the initial comic book series' 6-issue run. It has now finally been released in paperback form with a cover by Francesco Francavilla (who also contributed covers to the initial Dynamite comic book series) styled in similar fashion to the original UK Corgi books. In the story, Shaft is urgently summoned by Harlem crime lord Knocks Persons, but on arrival at Persons' home Shaft and Bamma Brooks, the gangster's right-hand man, find gunmen have stormed the house and Persons has been killed whilst corrupt cops look on. Escaping the gun battle with the help of an honest cop, Harry Townes, Shaft finds he has been bequeathed some papers including a letter from Persons prophesising his own death and hiring Shaft to find his killer. Also in the papers are notes concerning Shaft's father, who was a numbers runner and had been killed when Shaft was an infant. Along the way Shaft comes across crooked cops and street kids who have no qualms about killing and an old friend with a score to settle. Shaft rescues Brooks, who was hospitalised following the shootout at Persons' home, from an attempted hit and Townes from another. With the help of Lt. Vic Anderozzi, Shaft gets Townes away then returns to Harlem with the injured Brooks for a showdown with Persons' assassin.
Walker's story is full of hard-hitting action and dialogue. He has a strong knowledge of the character and has stuck by his promise to be true to the John Shaft of Tidyman's novels. Walker has also wisely followed Tidyman's approach in writing the book in the third person. The Shaft books are action fuelled crime thrillers rather than mysteries and this approach helps flesh out the supporting cast of characters and their motivations. Walker expands through reflective prose on Shaft's foster parent upbringing and his father as well as his years as a Harlem gang war lord and his service in Vietnam. Walker is much more explicit about the impact of these events on Shaft's life than Tidyman was in the original novels lending the book more depth as a result. He also references his own superb comic book series Shaft: A Complicated Man (2014/15), re-using characters and making references to events from that story. In doing so Walker has put his own personal stamp and interpretation on the character whilst remaining faithful to Tidyman's vision. He also brings in supporting characters established in Tidyman's novels – notably Anderozzi, who plays a more direct part in the action here. There is also Mildred, Shaft's answering service, and Rollie Nickerson, Shaft's friend and barman from the No Name Bar.
The book is a fast-paced read set out in short chapters and populated with interesting characters and is an excellent re-introduction to Shaft in prose form. The climax may feel a little anti-climactic in that it leaves the story open for a follow-up, which I hope David Walker will provide us with sometime soon, but this remains an impressive return. In the meantime, we have his ongoing second comic book series, Shaft: Imitation of Life.