THE DRY by JANE HARPER (2016, Abacus, 404pp) ∗∗∗∗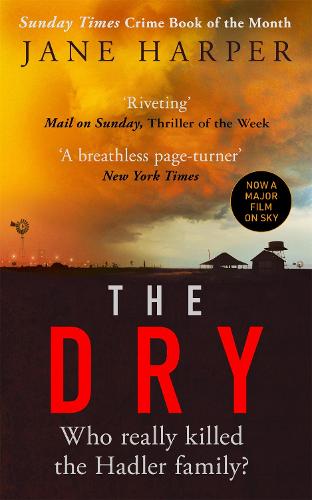 Blurb: Who really killed the Hadler family? In the small town of Kiewarra, it hasn't rained for two years. Swept up in the worst drought to ravage Australia in a century, the town crackles with seething malice and unvoiced grudges. Tensions in the community are at breaking point when three members of the Hadler family are suddenly brutally murdered. Everyone thinks Luke Hadler, who committed suicide after slaughtering his wife and six-year-old son, is guilty, but is he just an easy scapegoat? Policeman Aaron Falk returns to the town of his youth for the funeral of his childhood best friend, and is unwillingly drawn into the investigation. As questions mount and suspicion spreads through the town, Falk is forced to confront the community that rejected him twenty years earlier. Because Falk and Luke Hadler shared a secret, one which Luke's death threatens to unearth. And as Falk probes deeper into the killings, secrets from his past and why he left home bubble to the surface as he questions the truth of his friend's crime.
Jane Harper's debut novel is a confident mystery thriller with an evocative closed community setting. The book links together two mysteries – one in the present, the other from twenty years earlier. Harper's detective hero, Aaron Falk, is linked to the mystery from the past via his friend, Luke Hadler, who along with his family are the victims of the mystery of the present. Both are seeming suicides and may be linked. The book unravels these mysteries through clever use of flashback passages, frequently interspersed with the present day case. Chapters and scenes are edited so as to keep the reader turning the pages. The characters are vividly drawn and the reader is left guessing right up until the reveal. A strong debut for a proposed series.